Case study
Casa Mi
Casa Mi es una de las villas más extraordinarias de la orilla derecha del lago de Zúrich, llamada la «Costa de Oro» por su clima soleado y la exclusividad de sus viviendas. La villa, situada en medio de la naturaleza y con enormes ventanales con vistas al lago, destaca por su estética radical y atrevida.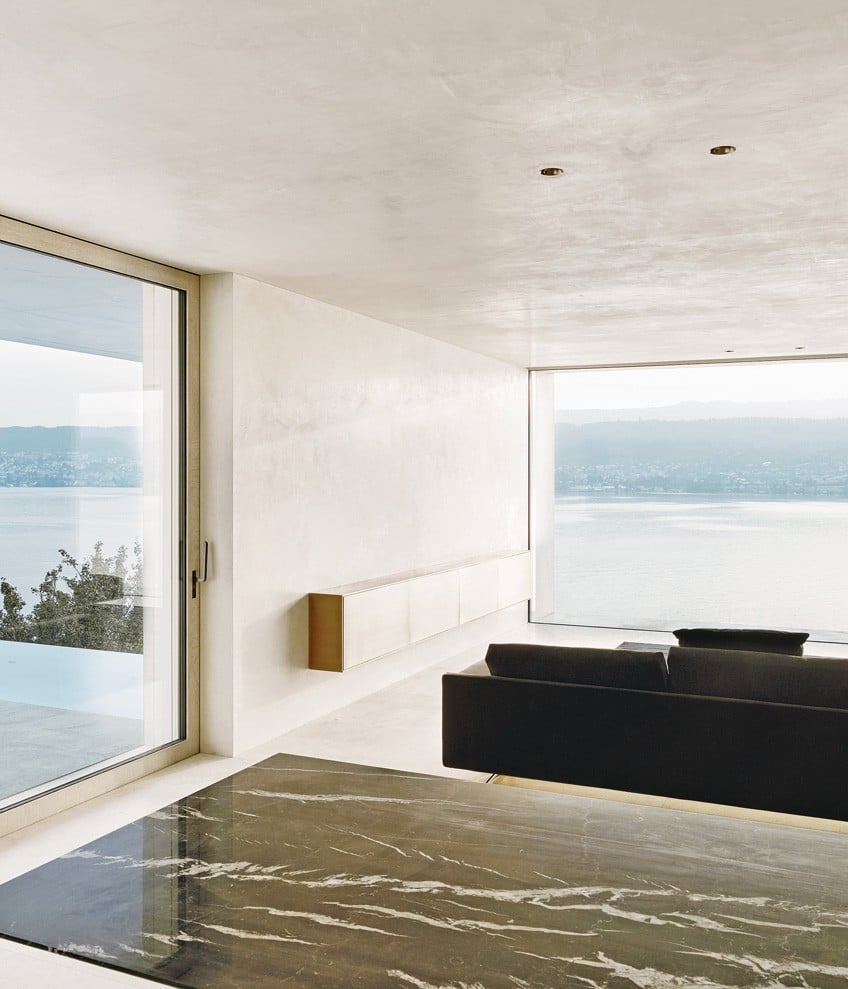 Poliform Contract suministró todo el mobiliario y propuso soluciones a medida, con el objetivo de combinar la estética deseada por Daluz González Architekten con los requisitos funcionales de un entorno doméstico.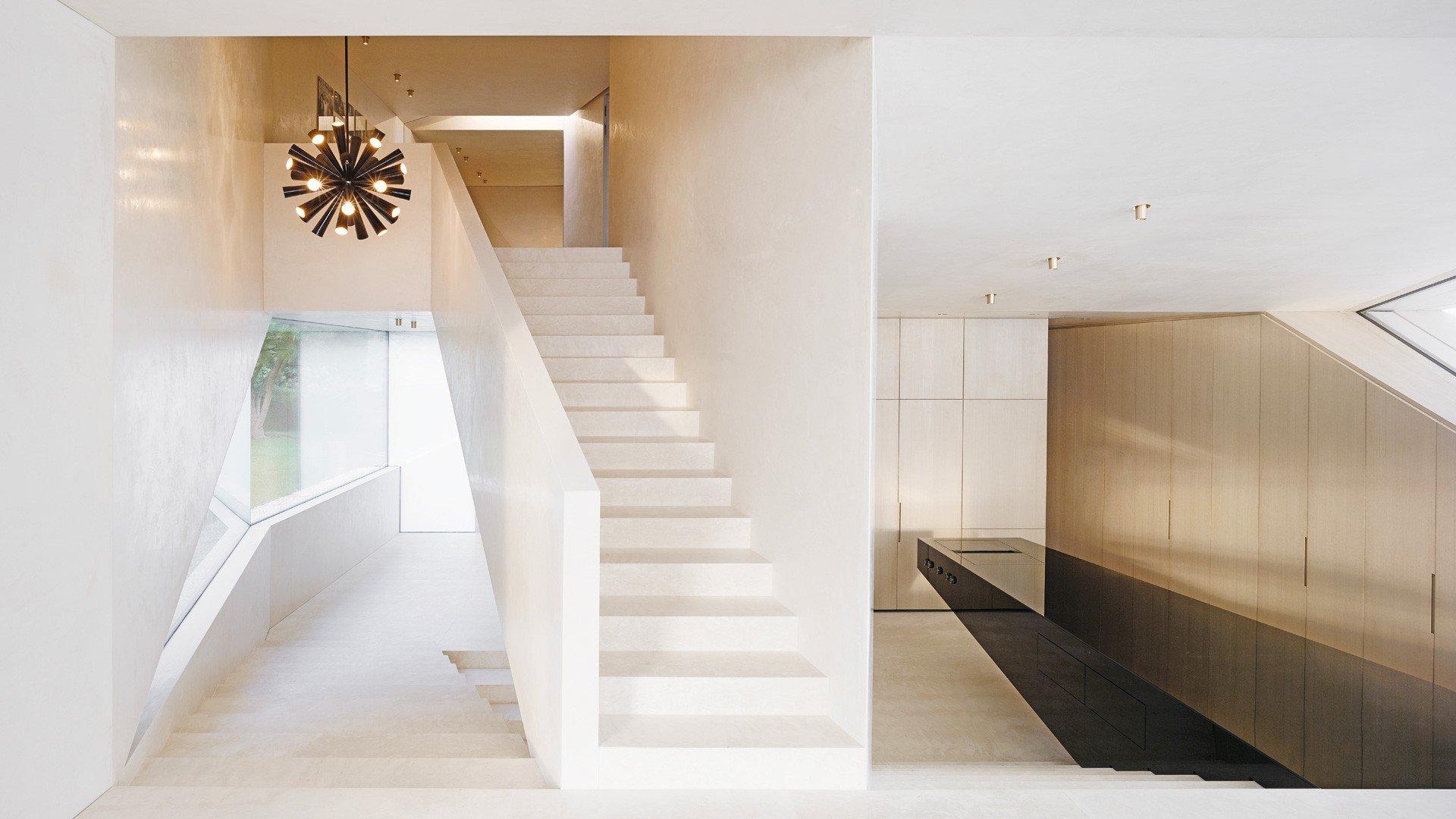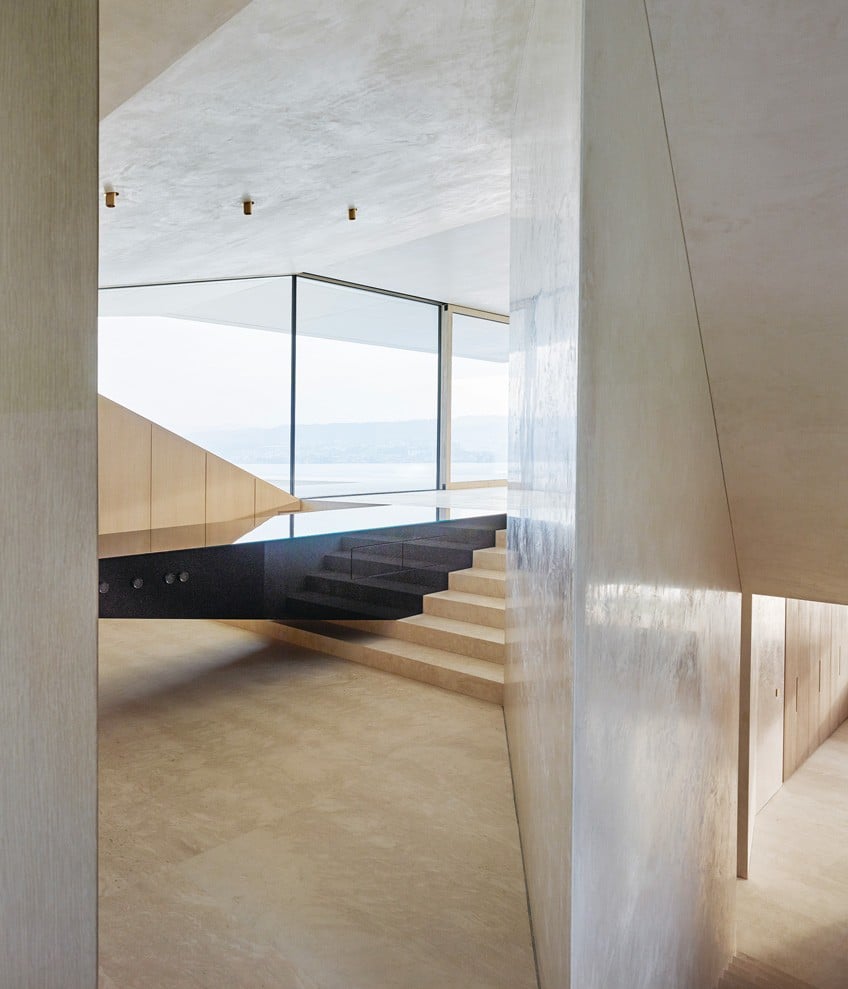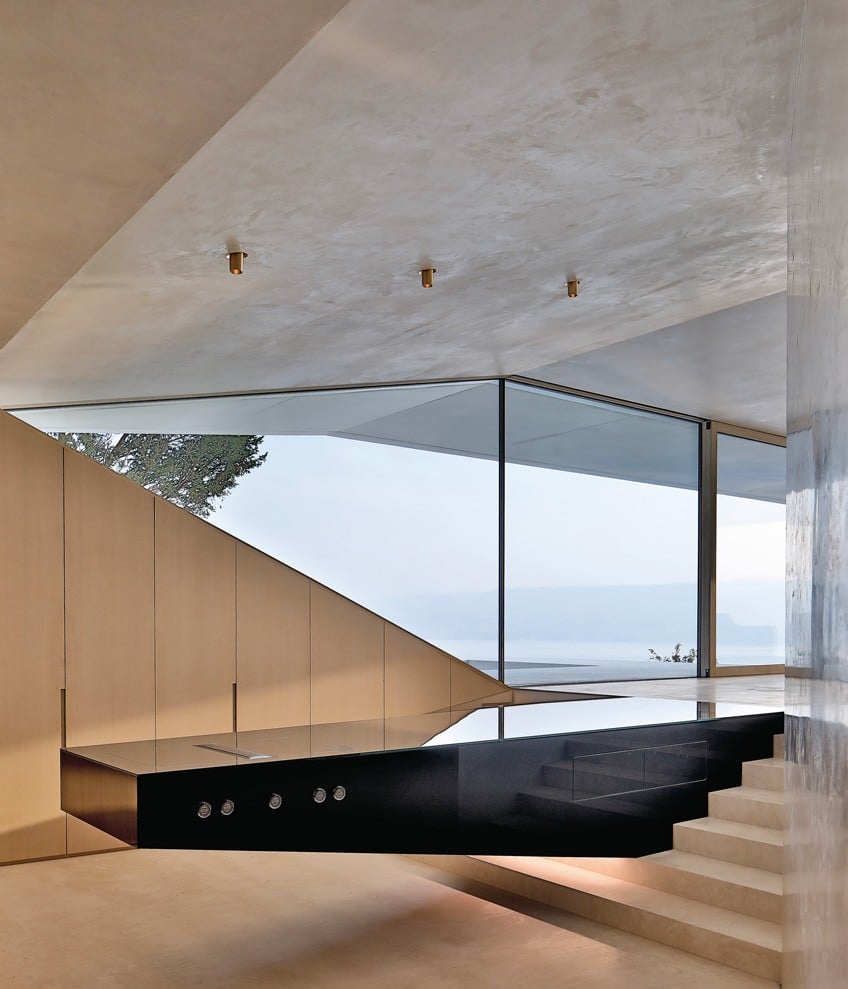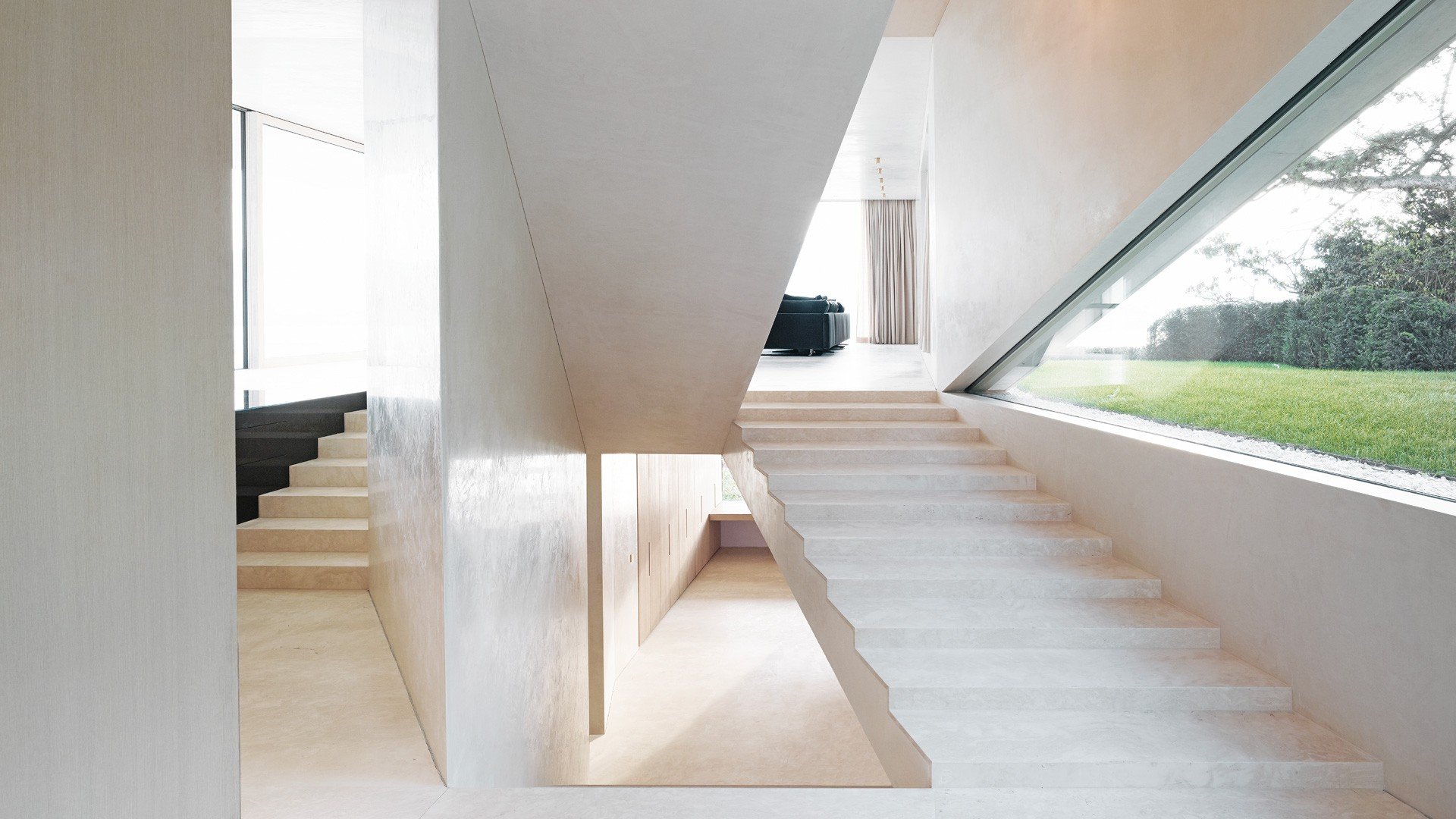 Tres grandes muebles negros –una encimera de cocina de cristal, un sofá de cuero y una mesa de comedor de mármol marquina– caracterizan las estancias centrales de la casa dedicadas a la vida familiar.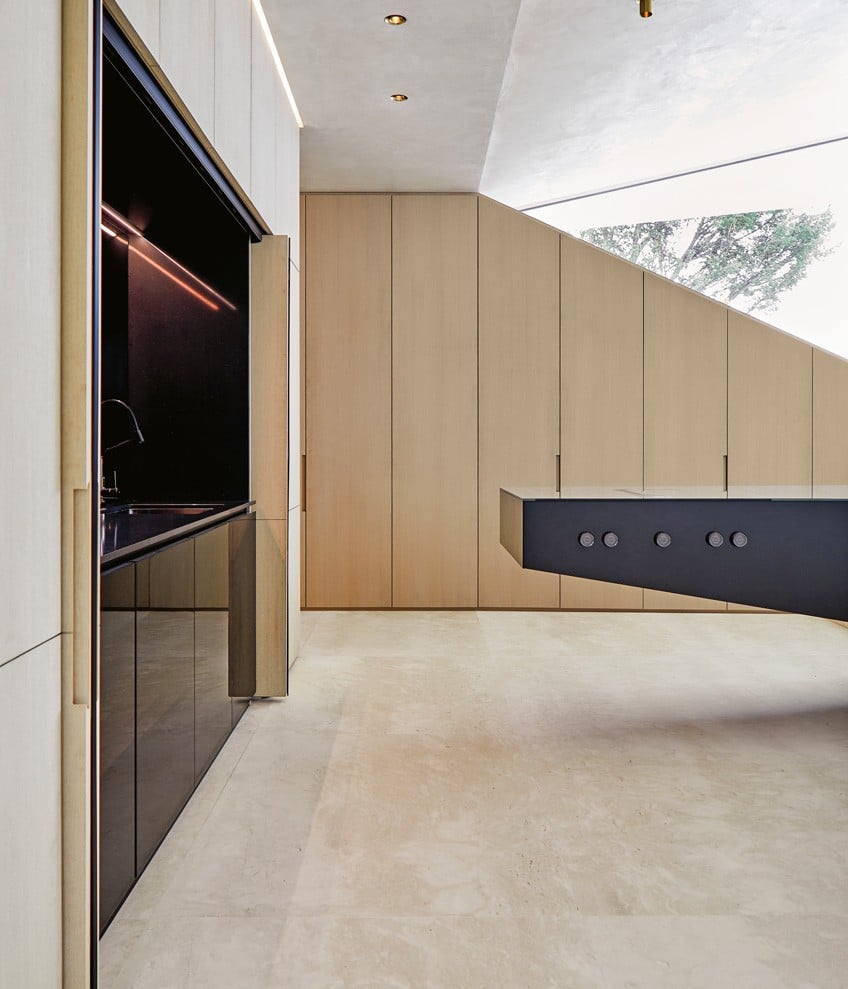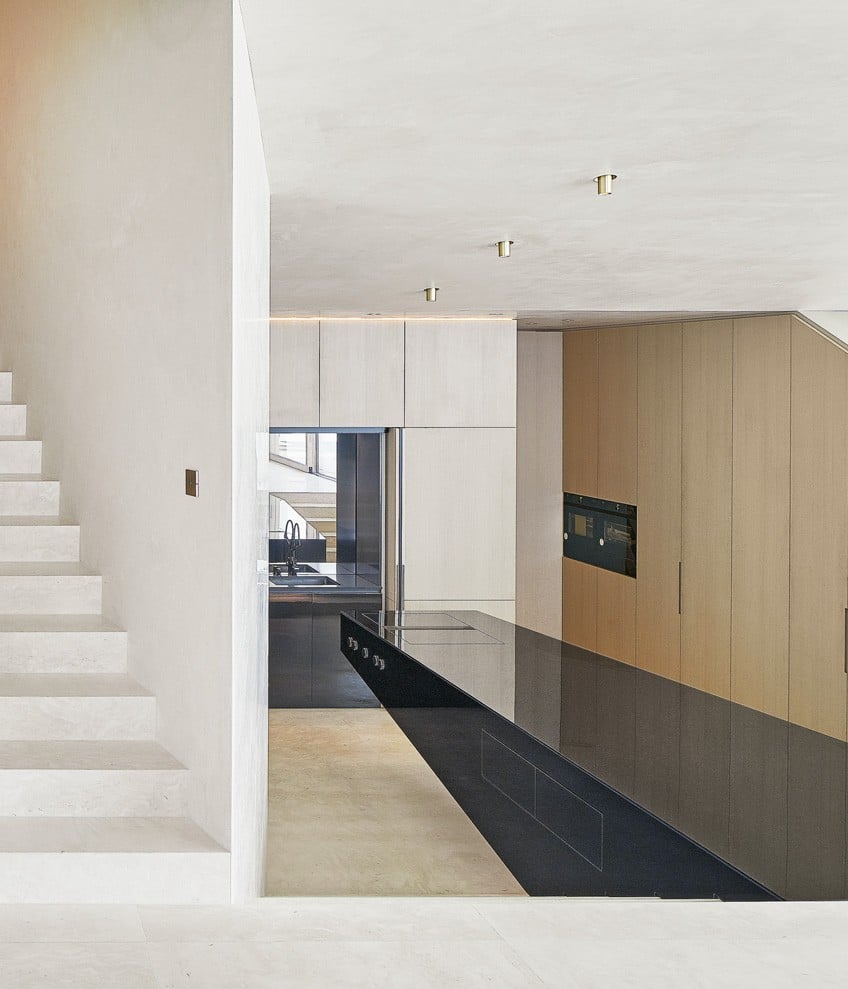 La villa está concebida como una escultura hecha de un solo bloque de piedra. En el interior, el ambiente es neutro y equilibrado, con techos, paredes y suelos a juego.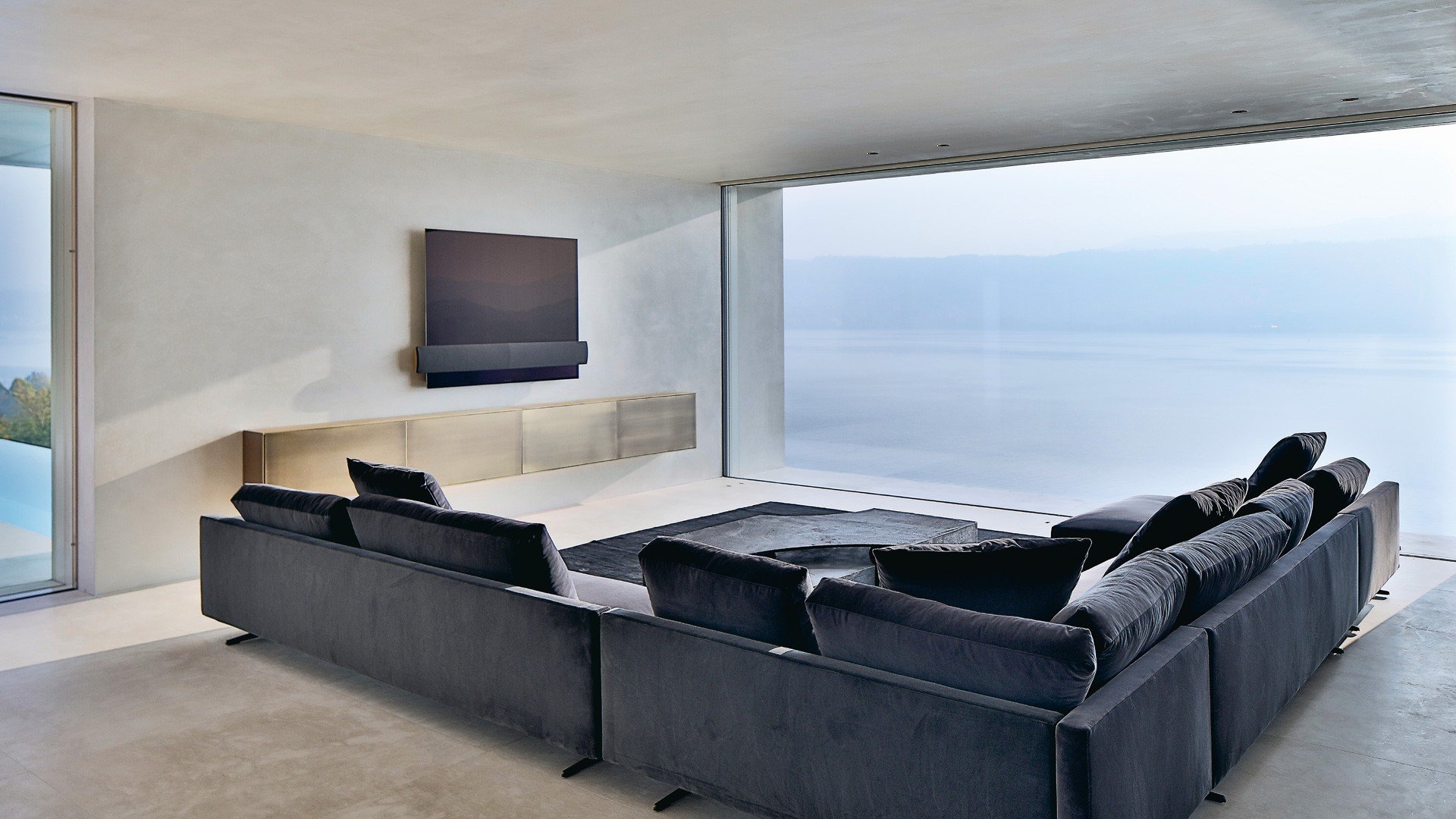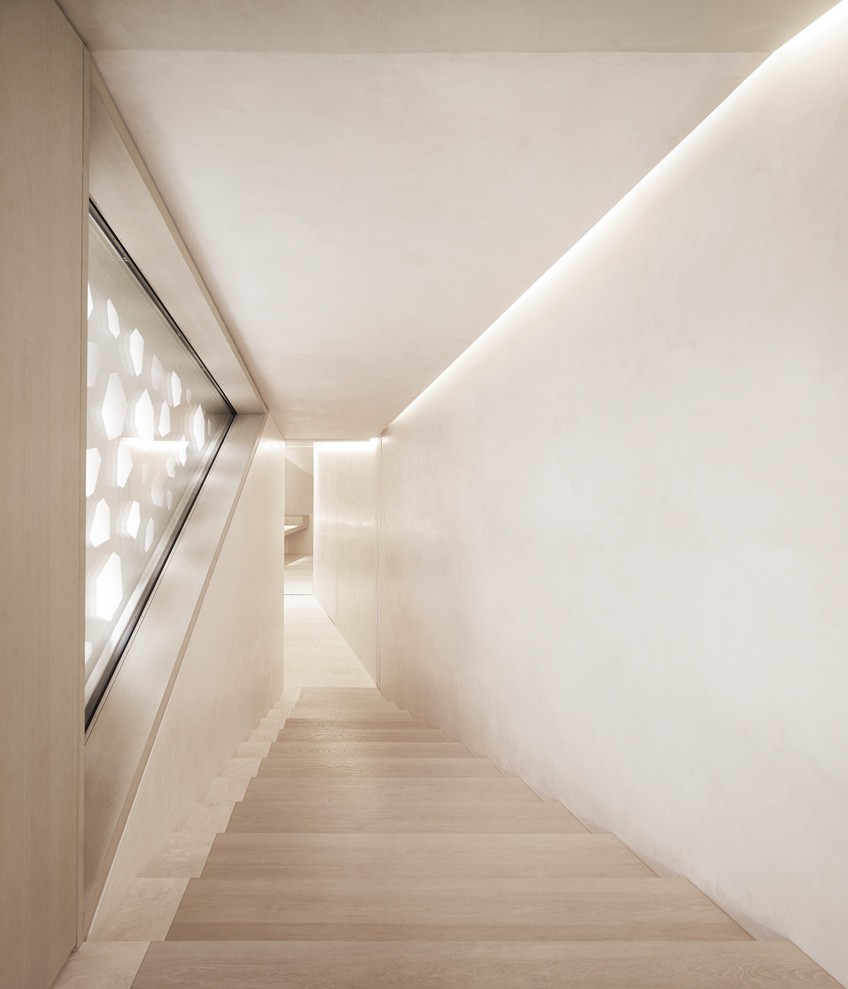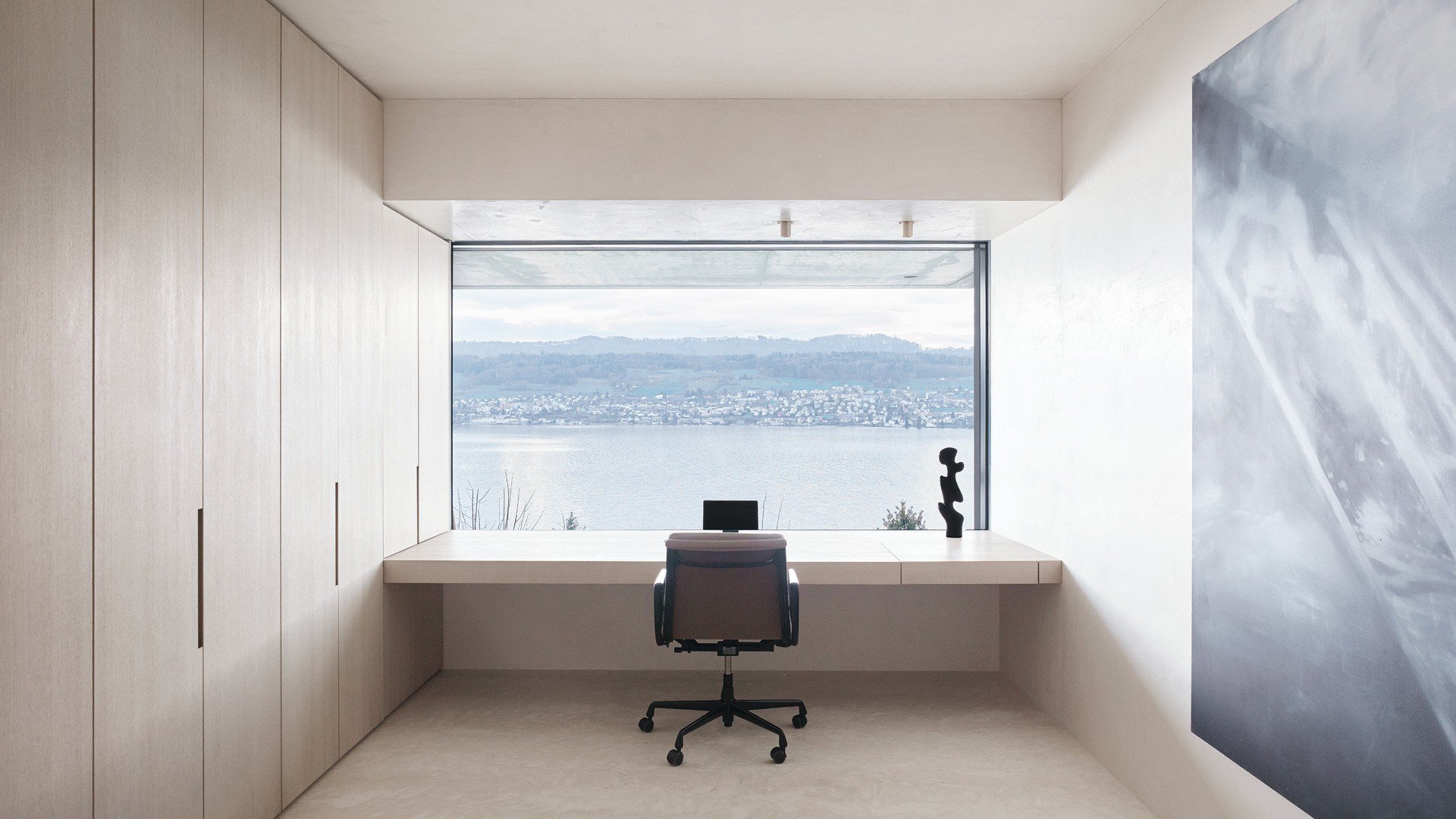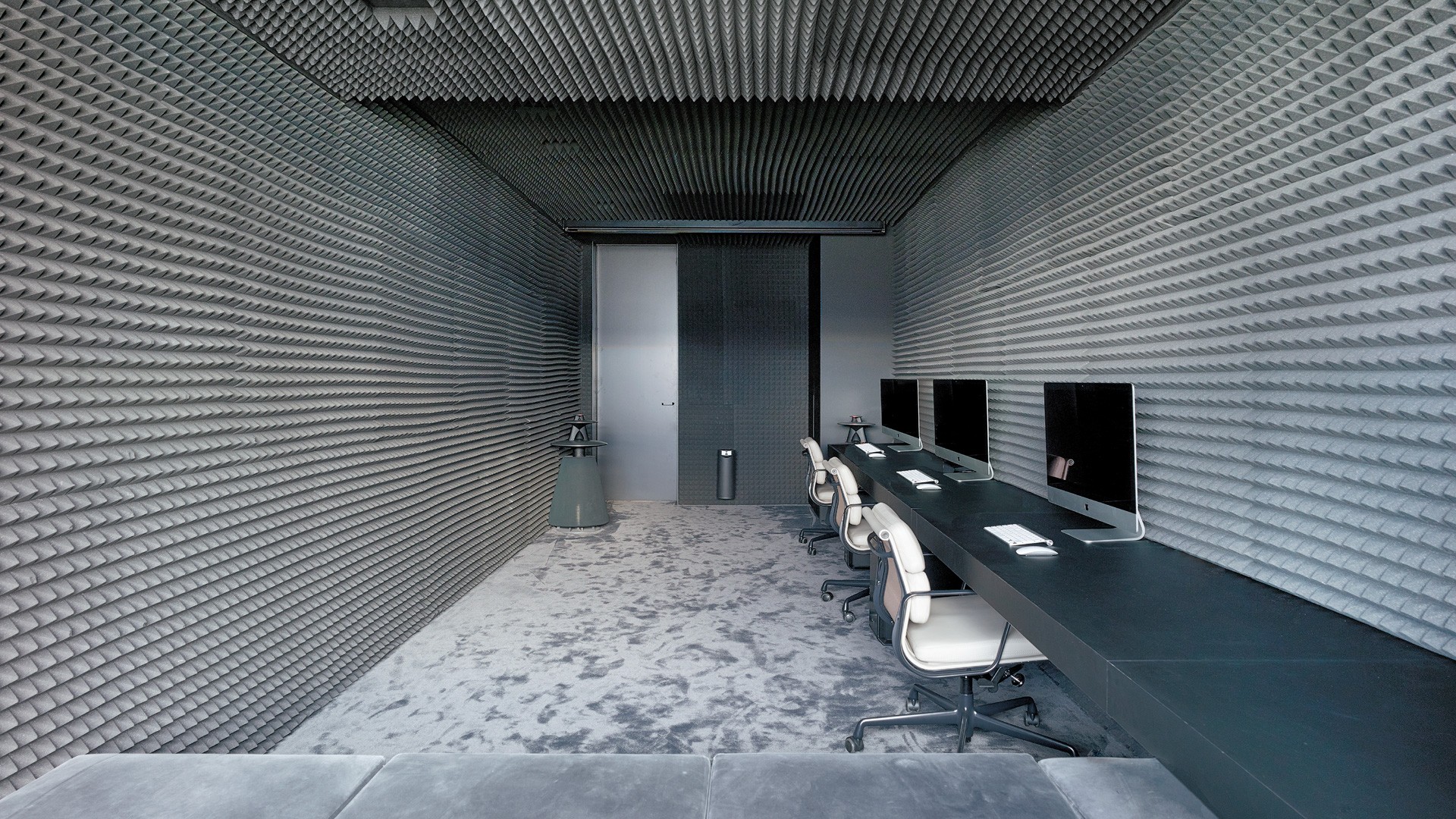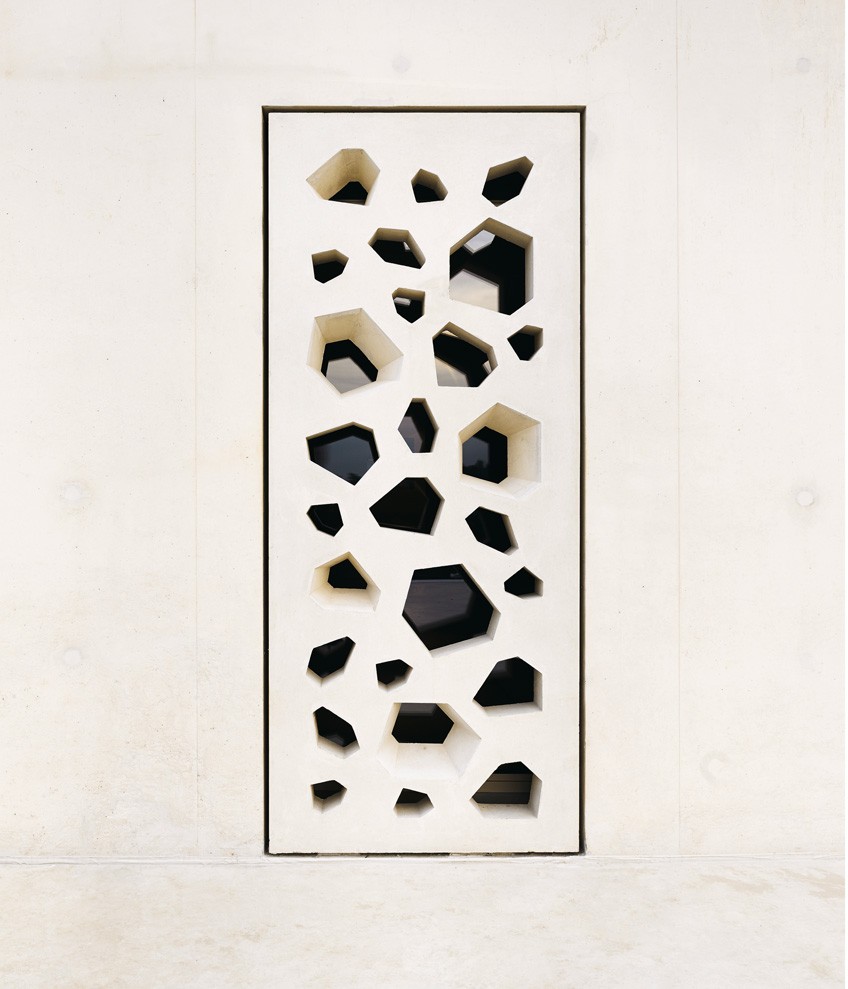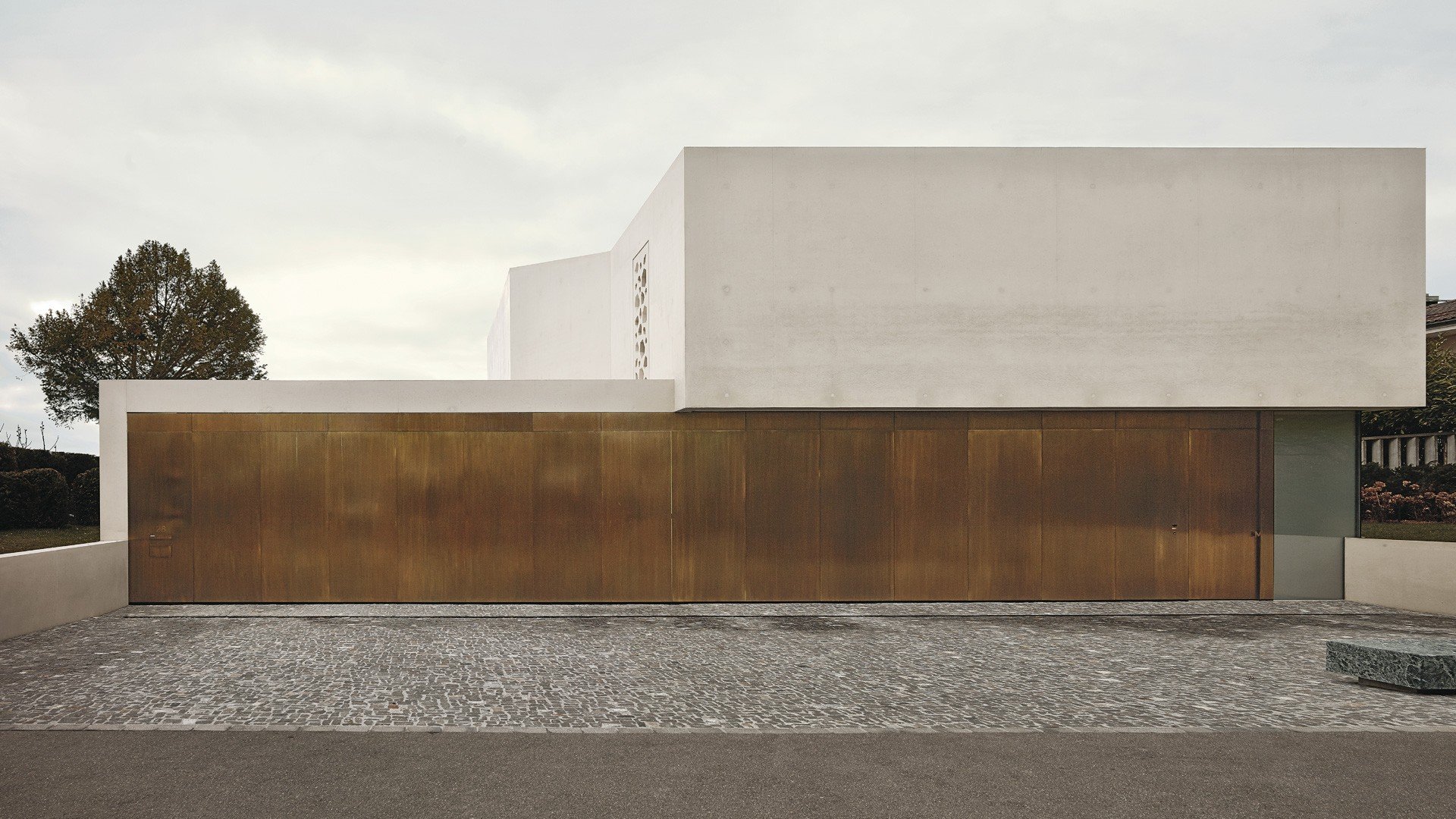 Interview
Daluz González Architekten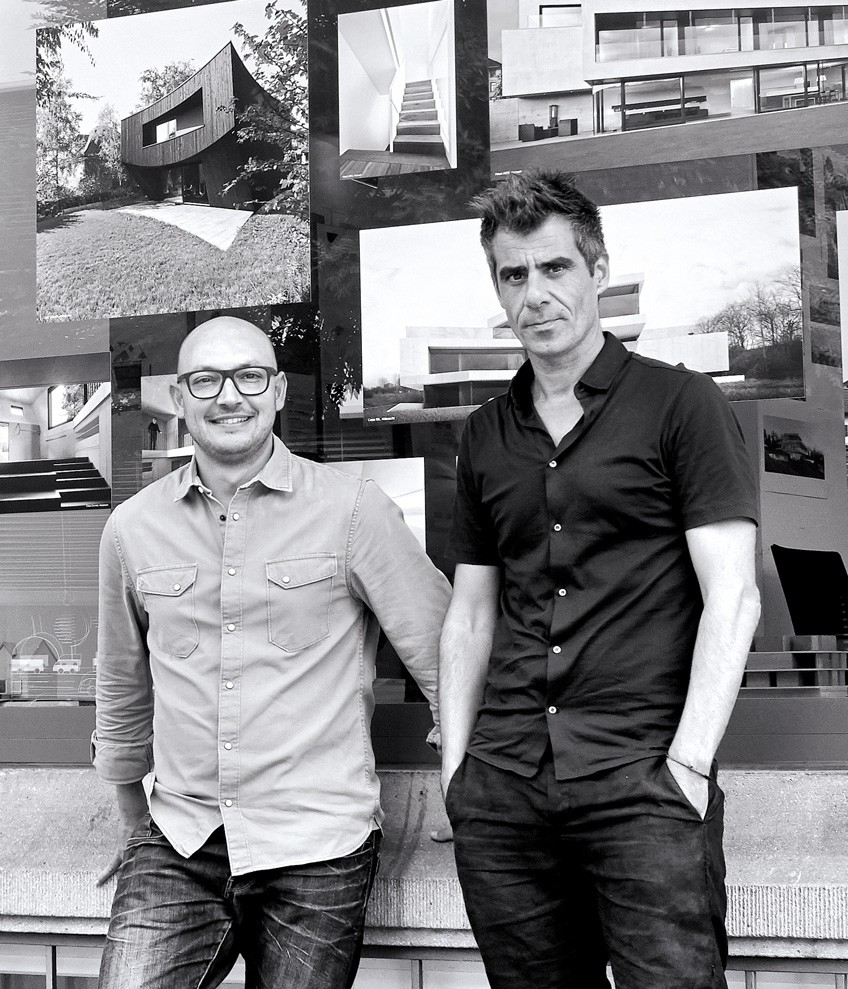 Daluz González Architekten is an architecture studio based in Zürich and renown for the peculiar layouts and shapes of its pro-jects. Founded in 2007 by Spanish born architects Rubén Daluz and Juan González, it has received several important awards such as Best Architects 17 and Best Architects 19.
Rubén Daluz, Juan González and their team have developed a creative method based on the simultaneous processing of different ideas. All possible influencing factors are analysed and visualised in order to identify potential solutions, trying to cover the largest number of possibilities by using different and often opposite design strategies. As a collective of architects, inspirations, tastes and interests can be similar or even quite different: this complexity feeds creativity, and every input is discussed without prejudice.
Intense dialogue between the architects and their clients guarantees that every project is the coherent and precise materialisation of a wish. Given the difficulty of realising complex plans, the studio collaborates with industry experts, such as engineers, landscapers, construction managers, ecologists, etc. Among the latest projects by Daluz González Architekten are Casa Curved, Casa Forest and Casa Mi. All of them are single family houses where the client's specific requirements, along with the st udio's aesthetic ideals, were the fundamental elements guiding the design.
With almost seven hundred square metres of bold lines and ultra-modern volumes, Casa Mi – which we discuss below – is a three-storey villa with breath-taking views of Lake Zürich. Inside, light plays a central role in the huge open spaces, brightened by the neutral tones of the ceilings, walls and floors, connected by wide staircases.
What was the client's request and how did you interpret it?
The client launched an architectural competition for the design of a huge villa on Lake Zürich. We met him twice to discuss his desires, as well as the volume and shape of the resulting project. Between the client's request and our architectural interpretation there was no difference at all. We worked on a simple and clear concept – a radical and daring aesthetic proposal that contained all the comforts and functions a home requires. Our project was selected among five others.
What is the role of the lake in the project?
Casa Mi is located in the outskirts of Zürich and enjoys a privileged panorama, with the delightful Swiss Alps to the East, the marvellous Lake Zürich to the South, and stunning views of the city to the West. The lake has without doubt a leading role in this project: you can see it from everywhere, from communal spaces to private rooms. Water conveys a quiet and peaceful sensation, an ideal state of mind, and the landscape is framed and idealised through the windows.
"We wanted the same colour and texture inside and outside, like if the house were a sculpture carved out of a single block of stone".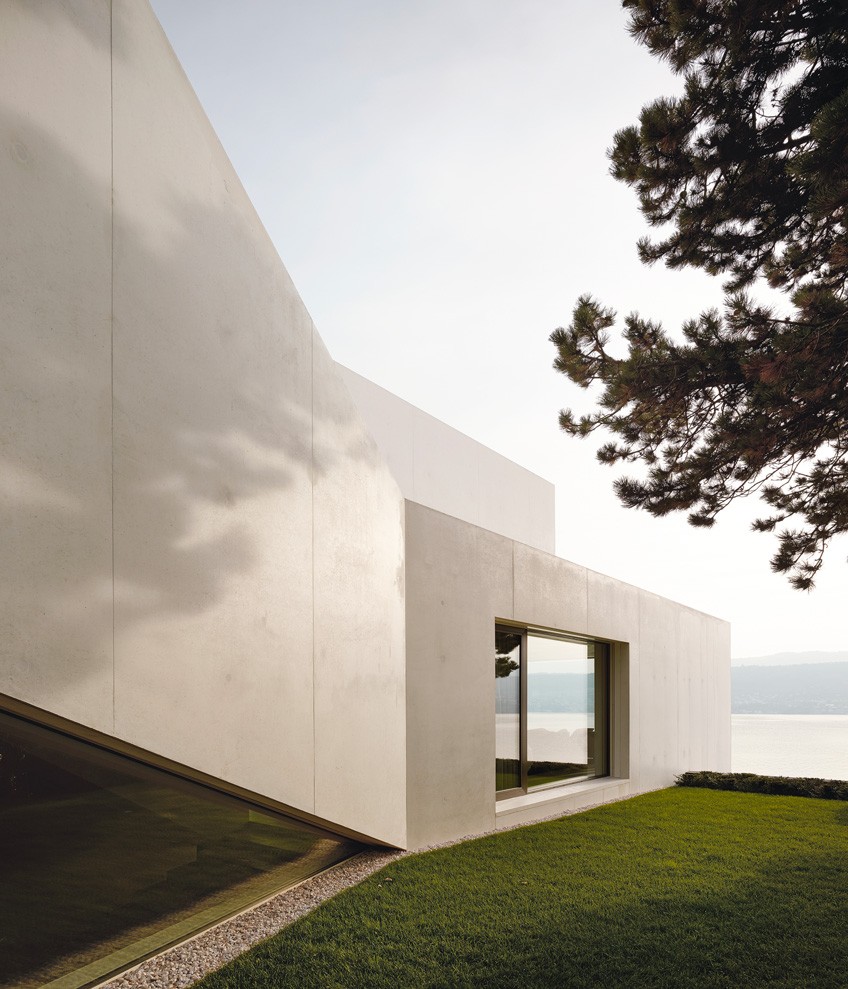 The house is made of multiple stacked blocks: how did you merge them together?
The whole volume is divided in two parts and each floor has a specific function. The first part, overhanging from the hillside, is located in the centre of the plot perpendicularly to the lake. Here, communal spaces are placed in a sequence: the entrance, the living room, the library, the kitchen and the dining room are slightly raised on different levels, so that every room enjoys a lake view, whatever its position. Spacious staircases and open spaces make it look continuous. The second part of the volume is integrated below ground level, to reduce overall scale. It has a running window, which from the outside looks as a camouflaged fissure. It allows natural light to enter and connects all the rooms with the lake.
Which materials and colours did you choose and why?
Our idea was very clear since the beginning: Casa Mi should be a concrete object. Of course we are talking about a special concrete, a high quality one with a very specific tone. And we had to use only noble materials, no imitation would be accepted.
We wanted the same colour and texture inside and outside, like if the house were a sculpture carved out of a single block of stone. Of course this concept was impossible to apply literally, but this strong idea guided all the decisions about colours, textures and materials throughout the construction process.
Inside we wanted to create a neutral and balanced atmosphere where ceilings, walls and floors all acquired the same importance. Following our concept, the colour chosen was the same greyish beige used outside: walls and ceilings are made of plaster, the floor in is travertine. A very soft coloured wood was used for the wardrobes and the floors in the bedrooms. For the central and most representative space in the house, the one assigned to the communal life of the family and for hosting, we designed three large black pieces of furniture: a black leather sofa, a black marquina marble dining table and a black glass kitchen bar. Three black pieces in three different materials for three different functions. Finally, all the bathrooms are dark grey and black, contrasting with the colours of the public spaces and rooms.
What was Poliform's contribution to the overall project?
Collaborating with a brand like Poliform in a project like this was great. Poliform Contract supplied the furniture and proposed solutions and ideas to achieve both the desired aesthetic and the functional requirements of a domestic environment. Their professionalism and experience were crucial to the success of the project.